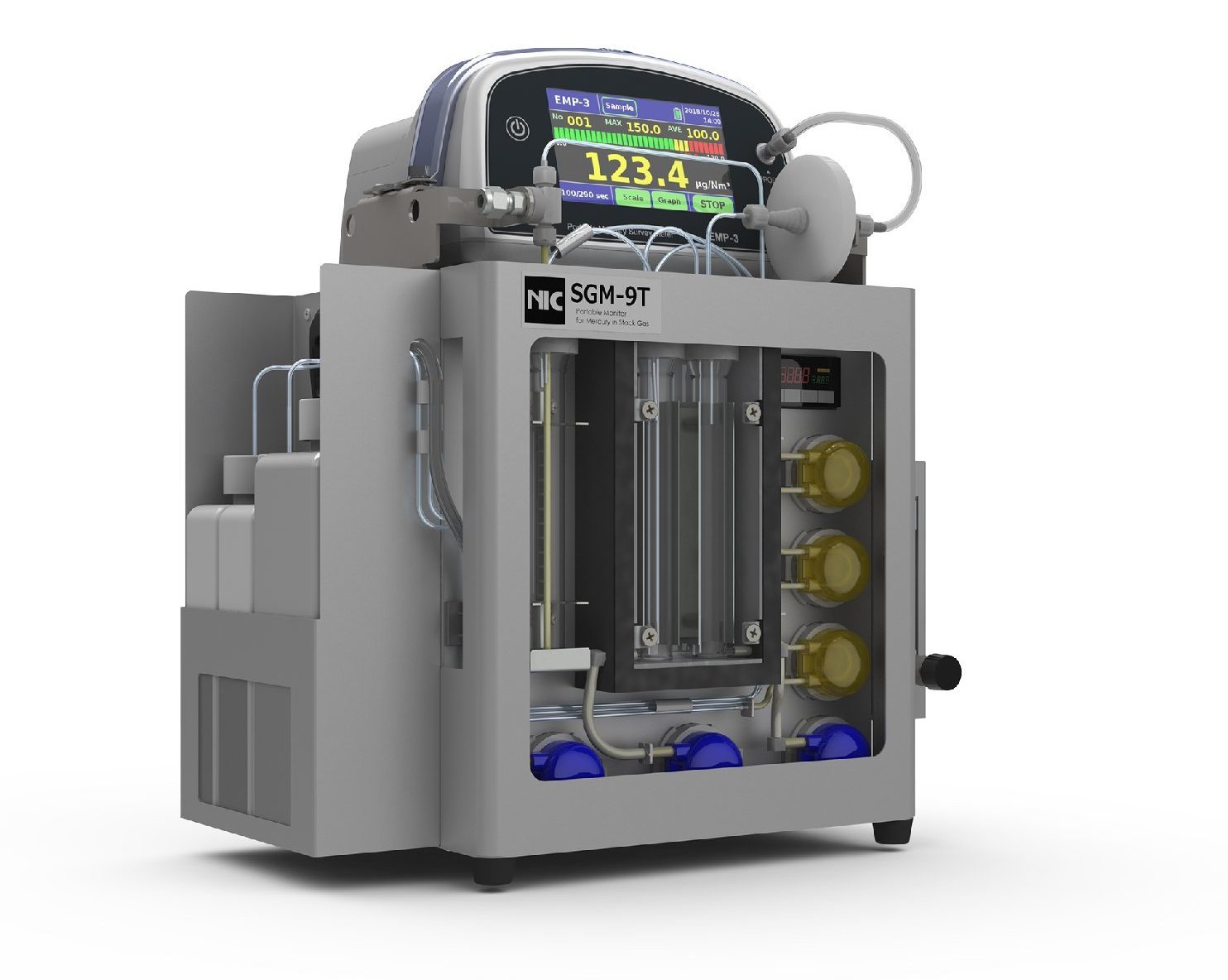 Portable Monitor for Mercury in Stack Gas
Compact, accurate and efficient
Flue Gas of Coal-Boiler  |  Waste Incinerator  |  Sewage Sludge Incinerator  |  Medical Waste Incinerator  |  Crematoria  and more
Incredible Field-Portability
– Compact & Convenient Design
SGM-9 is light-weight and compact. Its design is suitable to access and use in constraint workspace or any elevated workspace as it does not require a large installation space and comprehensive utility.
SGM-9 adopts a simple probe design with universal C-type-clamps – Suitable and compatible with most size flange sampling points within the facility, making it quick and easy to mount, install and use.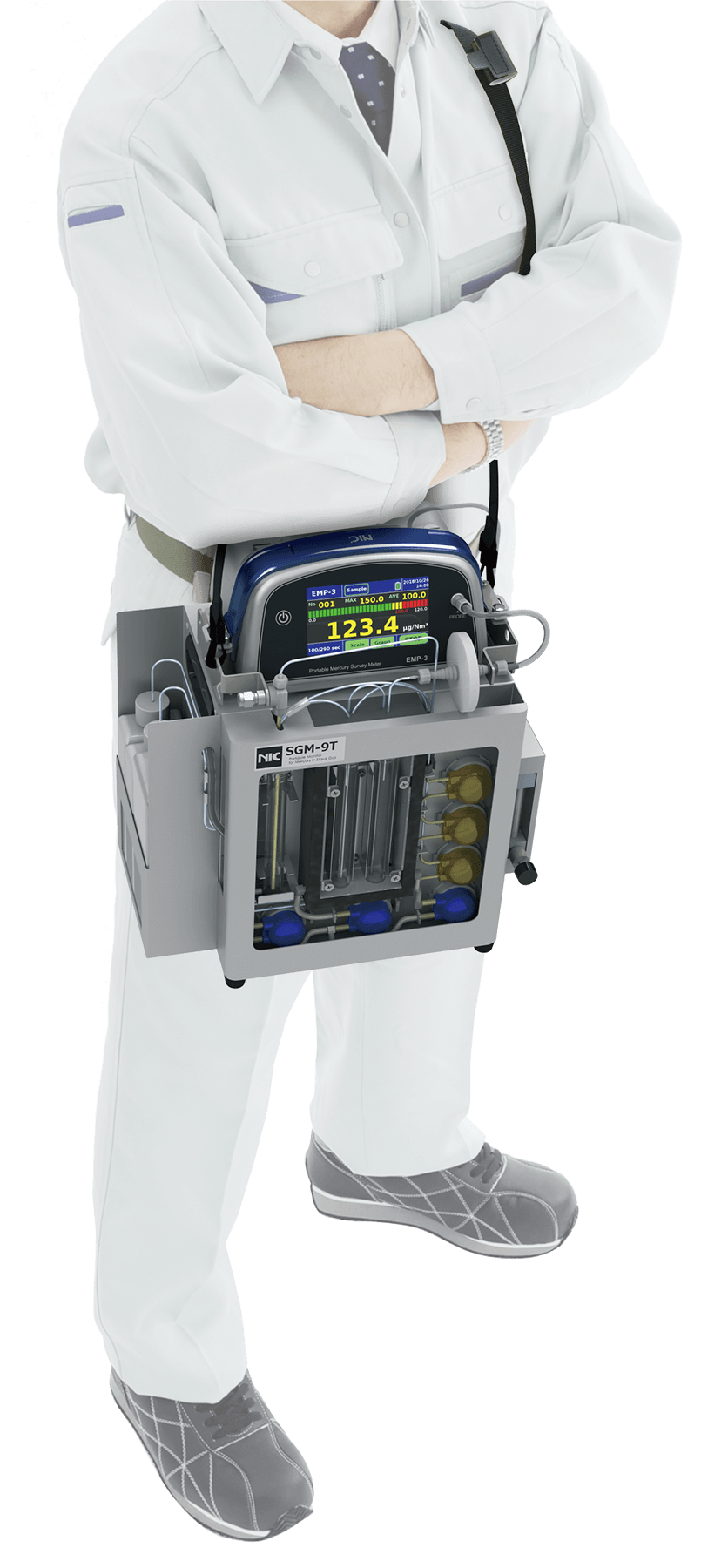 Versatile Application – Mercury Speciation Measurement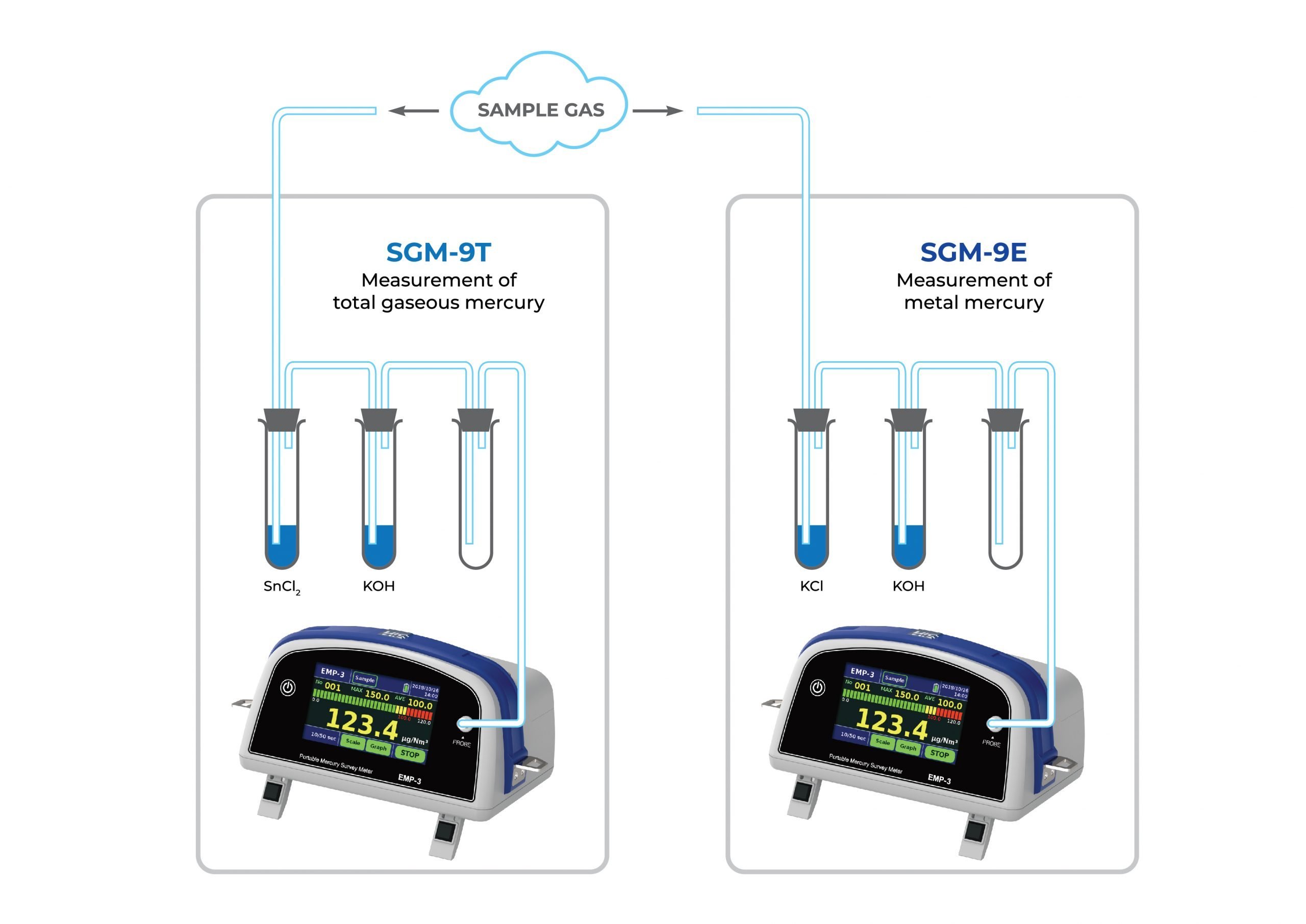 The types of mercury species present in stack gases typically depend on the kinds of materials or fossil fuels that are burned and the level of reactive gas (eg. HCl) available. To manage the mercury removal process effectively, efficiently, and economically, it is crucial to understand the levels of mercury species (elemental and ionic) that exist in the emitting gases to apply the correct Hg removal technologies.
Real-time mercury speciation (both elemental and ionic measurement) can be done by using 2 sets of SGM-9, from a single source of sample gas sharing into each SGM-9 with appropriate reagents.
SGM-9T is set for Total Gaseous Mercury (TGM) measurement, where it measures both Hg2+ and Hg0 from the emitted stack gas.
It uses reductant SnCl2 to reduce all Hg2+ to Hg0. 

All Hg0 are measured in CVAAS as Total Elemental Mercury (TGM), Hg0 

SGM-9E is used for the measurement of Gaseous Elemental Mercury (GEM) Hg0 only.
In SGM-9E, KCl is used instead of SnCl2.
The solubility of Hg2+ retains in the KCl solution, while the Hg0 which has no reactivity continues to transfer to the CVAAS to measure as Total Elemental Mercury, Hg0.
By deducting the value of Hg0 from the value of TGM, Hg2+ (RGM – Reactive Gaseous Mercury) can be simultaneously obtained.
Built-in GPS Function – Measurement with Peace of Mind
With the EMP-3 equipped with a built-in GPS function, every measurement done using SGM-9 will have a set of coordinates, indicating the exact location of where the measurement is being made.
Smart Reagent Management
SGM-9 requires the use of reagents for gas pretreatment unit, WLE-9. Reagent concentration activities are crucial to ensure complete chemical reactions.
SGM-9 employs a Smart Reagent Management system. By entering the on-site stack gas parameters such as humidity and temperature, SGM-9 can estimate the optimum reagents' activity, automating the time and replacement frequency productively, maximizing the use of reagents activity, reducing consumption and waste generation.
Superior Detection Range
– Up to 2000 µg/Nm3
SGM-9 is equipped with the 3rd generation EMP-3 detector with an extended measuring range of up to 2000 µg/Nm3. Such a wide detection range enables users to cover a broad range of applications, responding quickly to pressing situations.
Measuring Mercury from Stack Gas Emission – Why?
With the introduction of the Minamata Treaty in 2017 (Click for more information about the Minamata Convention Treaty), mercury monitoring worldwide has become increasingly significant as stationary emission is one of the major contributing factors towards the alarming level of mercury in the ambient air.
Mercury emitted into the atmosphere will eventually settle into water bodies which are embedded into our ecosystem. Thus, monitoring stack gas emissions is one criterion to ensure the emitted mercury is below the permissible level.
Real-Time On-Site Mercury Measurement
Unlike the wet-absorption sampling technique that is used for stack gas sampling, SGM-9 performs both real-time sampling and measurement on-site. In the wet-absorption sampling technique, the operator is required to send the sampling solution back to the laboratory for further measurement.
Turnaround time from sampling to result reporting may take up to a few days or weeks. On the other hand, SGM-9 is capable of obtaining the measurement on the same day at the site, allowing the operator to take proper actions immediately.
Fully Functional & Accurate CVAAS Mercury Monitor
SGM-9 incorporates EMP-3 as its detector. Although EMP-3 is field-portable, there is no compromise on its measurement technology and accuracy for its portability. It is equipped with a non-dispersive double-beam cold vapor atomic absorption spectrometry (CVAAS) detector for mercury measurement. All gaseous elemental mercury (GEM) that is drawn into EMP-3 is measured by the absorbance at wavelength 253.7 nm.
SGM-9 consists of two main components, the EMP-3 (Mercury detector) and WLE-9 (Gas Pretreatment Unit). The Sampling Probe with a Dust Filter installed at the chimney sampling point. A stream of dust-free stack gas is drawn through a Heated Transfer Line into the WLE-9.
In WLE-9, there are 3 gas scrubbers
For SGM-9T: Hg2+ is readily reduced by reductant SnCl2 to Hg0 to continue to 2nd Scrubber.
For SGM-9E: Hg2+ is dissolved and removed in KCl, leaving only Hg0 to continue to 2nd Scrubber.
All interferences such as acidic gases (SOx and NOx) are removed by KOH.
After removing interference gases, moisture is dehumidified in the 3rd scrubber by an electronic cooling unit.
Eventually, leaving a continuous stream of interference-free dried gas with gaseous elemental mercury (Hg0) into the CVAAS detector of EMP-3 to measure as Total Gaseous Mercury (SGM-9T) or Gaseous Elemental Mercury (SGM-9E).
The SGM-9 operating technique and procedure complies with Japan Industrial Standards, JIS B 7994. 
3rd generation of EMP, portable, accurate, wider measurement range for on-site measurement anytime, anywhere.