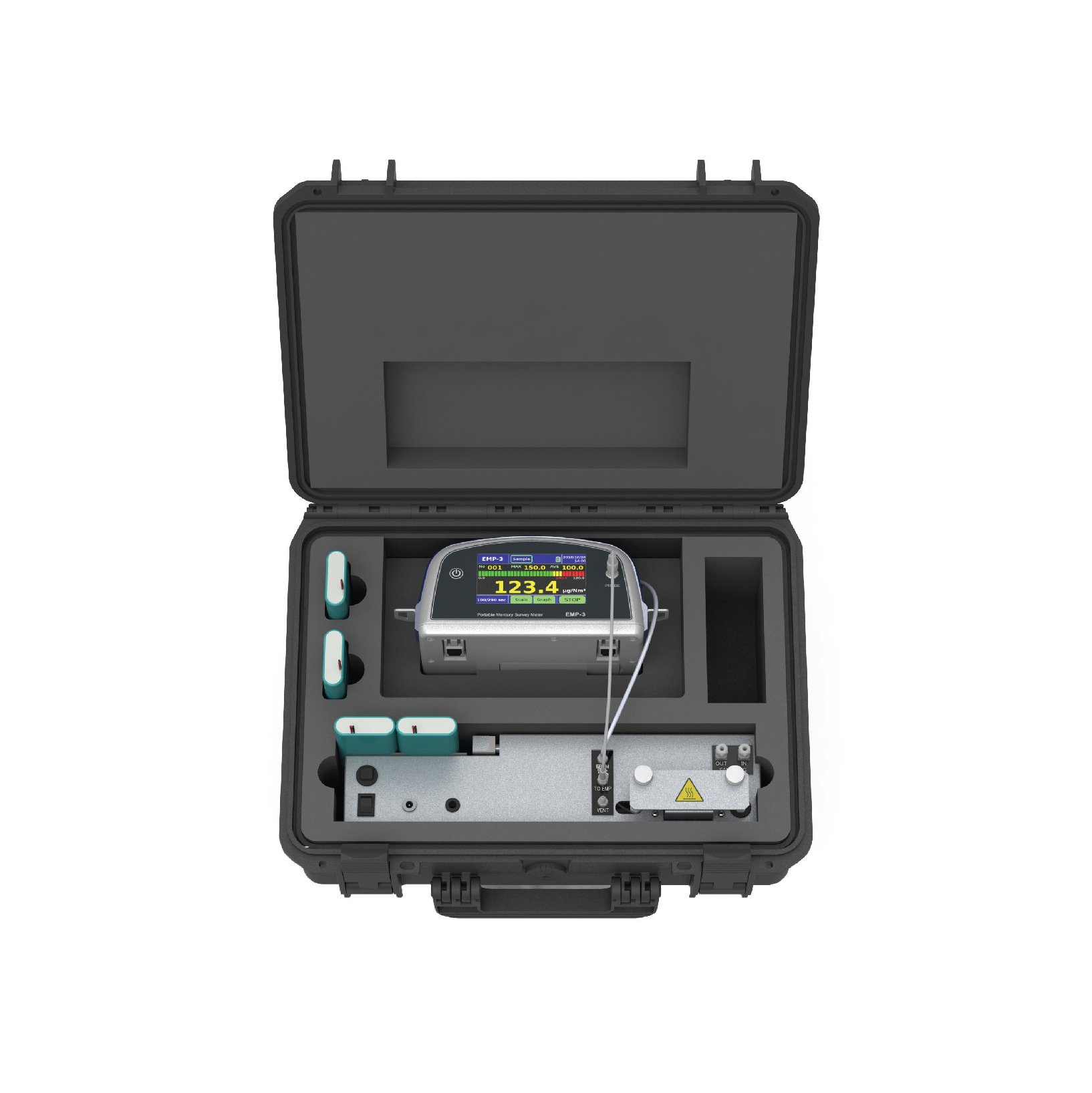 Field-Portable Mercury Analyzer
Highly sensitive, accurate and compact
EMP-Gold+ is an Ultra-High Sensitive, Field-Portable Mercury Survey Meter that is designed for on-site measurement of Total Gaseous Mercury (TGM) where measuring matrices may interfere with the measurement and/or the mercury concentrations in the ultra-trace of ng/m3 levels.
In principle, the EMP-Gold+ can be operated in two different modes: 
Gold Amalgam mode – For trace level mercury survey meter
Direct Survey mode – As a direct real-time mercury survey meter EMP-3
Workplace Air measurement for occupational safety | Mercury in Natural gas, Shale gas, and LPG from Tedlar bag
Fundamentally, both measuring concepts of EMP-3 and EMP-Gold+ are the same as it uses the same detector – CVAAS built within EMP-3. (Click Here for more information about EMP-3).
EMP-Gold+ has another enhancement – the Gold Amalgamator. It is used to concentrate further and purify mercury analytes using the principle of amalgamation between gold and mercury.  
All operating functions are managed from the touchscreen of EMP-3. User setup the desired sampling time. 
When sample gas is drawn into EMP-Gold+, Total Gaseous Mercury (TGM) is trapped onto the Mercury Collector Tube in the Gold Amalgamator unit. Only mercury is trapped and concentrated with gold as amalgam since it is highly selective only towards mercury. All other background interferences have no reaction and are rejected.
Subsequently, the Mercury Collector Tube is heated up to the temperature, releasing the purified mercury vapor into the CVAAS detector in EMP-3 for measurement.
The entire process (Gold Amalgamator unit and detector) is powered by battery.
Fully Functional & Accurate CVAAS Mercury Survey Meter
Although EMP-Series is field-portable, there is no compromise on its measurement technology and accuracy for its portability. EMP-Gold+ is equipped with a non-dispersive double-beam cold vapor atomic absorption spectrometry (CVAAS) detector for mercury measurement. All gaseous elemental mercury (GEM) that is drawn into EMP-3 is measured by the absorbance at wavelength 253.7 nm.
In some remote areas, site access and facilities are not always easily available. Traditionally, only field mercury sampling is possible, either by passive or active sampling. The sample is then sent back to the laboratory for further analysis which incurs a long turnaround time. If the result is not desirable, the whole process must be repeated. With EMP-Gold+, GEM results can be readily obtained at each sampling on-site, allowing the decision to repeat for more samples or move on to the next site.
Ultra-High Sensitivity – LOQ of 7 pg
As EMP-Gold+ is equipped with a Gold Amalgamator unit, during sampling, it selectively traps gaseous mercury and eliminates all other interfering compounds such as aromatics and sulfur compounds. By eliminating the interfering compounds, only gaseous mercury is purified and concentrated, enabling the CVAAS in EMP-3 to achieve such a superior detection limit in a field-portable mercury survey meter.
This technique enhances the detection level down to as low as 7 pg which is 2.3 ng/m3 within 10 minutes of sampling.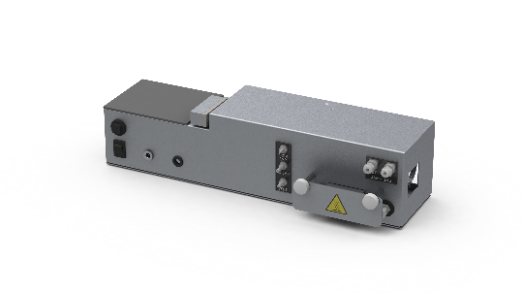 User-Friendly – Easy to Use Touchscreen Graphical User Interface (GUI)
EMP-Gold+ is equipped with a very user-friendly and responsive interface – 4.3' LCD High-Resolution Color Touchscreen. All functional buttons are available on the same screen, allowing for easy field operation and enhancing every user's experience. The LCD screen is also splash-proof.

Anyone can learn and operate EMP-Gold+ with ease!
Incredible Field-Portability – Lightweight, Compact & Convenient
EMP-Gold+ weighs only 6.4 kg which includes the entire carrying case that consists of detector and gold amalgamator. It is designed with an ergonomic handle and a durable carrying case for transport in any weather conditions for field deployment and operation.
EMP-Gold+ comes with a rechargeable Ni-MH batteries for both the EMP-3 unit and the Gold Amalgamator Unit, respectively. This Ni-MH battery is safe, and IATA approved for transport either by air or sea.

Since EMP-Gold+ incorporates the EMP-3 detector, it has the flexibility and versatility to detach to operate as a standalone standard EMP-3 Mercury Survey Meter whenever applications require. Therefore, EMP-Gold+ when it is used as EMP-3 standalone survey meter, possesses the same features and performance as regular EMP-3. Highly versatile to meet field applications.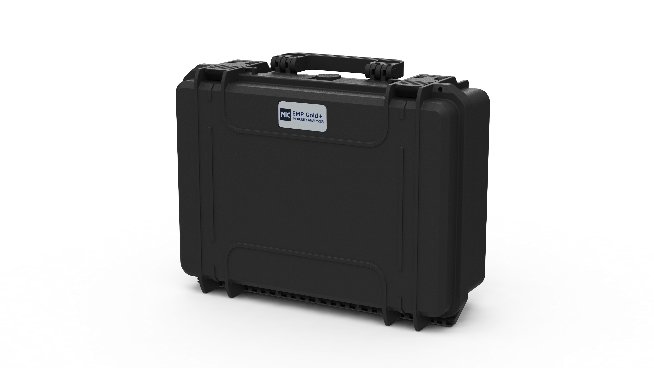 Superior Detection Range – Up to 2000 ng/m3
EMP-Gold+ is equipped with the 3rd generation EMP-3. The ultra-sensitive Gold Amalgam Mode has an extended detection range of up to 2000 ng/m3. 
An operator can easily select Gold Amalgam Mode or Direct Survey Mode.
Gold Amalgam Mode
The gold amalgam mode pre-concentrates the mercury onto Mercury Collector Tube in the Gold Amalgamator unit, allowing it  to achieve limit of quantification down to 7pg or 2.3 ng/m3 with 10 minutes of sampling. It has an extended detection range of up to 2000 ng/m3.
Direct Survey Mode
Operation and detection range as per EMP-3 from 0.1 ug/m3 to 2,000 ug/m3. 
Such a wide detection range enables users to cover a broad range of applications, responding quickly to pressing situations, all manage within a single instrument.
Built-in GPS Function – Measurement with Peace of Mind
To conduct multiples measurements in the field, it is rather bothersome and inconvenient to take note of every location data to the measurement readings manually.
EMP-Gold+ is now equipped with a built-in GPS where every mercury measurement done will also record the set of coordinates of that measuring location simultaneously with the mercury reading. This function facilitates the handling and data management process easier and provide users with peace of mind.
Highly Versatile, Convertible – Multiple Solutions in A Single Platform
EMP-Gold+ is an EMP-3 with a Gold Amalgamator Unit Configuration for ultra-high sensitivity measurement.
Mercury vapor can be present in different concentration levels, depending on whether it is to detect mercury in ambient air background or contamination levels at polluted sites or sources. EMP-Gold+ can be configured and equipped with various options and accessories to suit the applications.
For On-site Measurement of Aqueous Matrices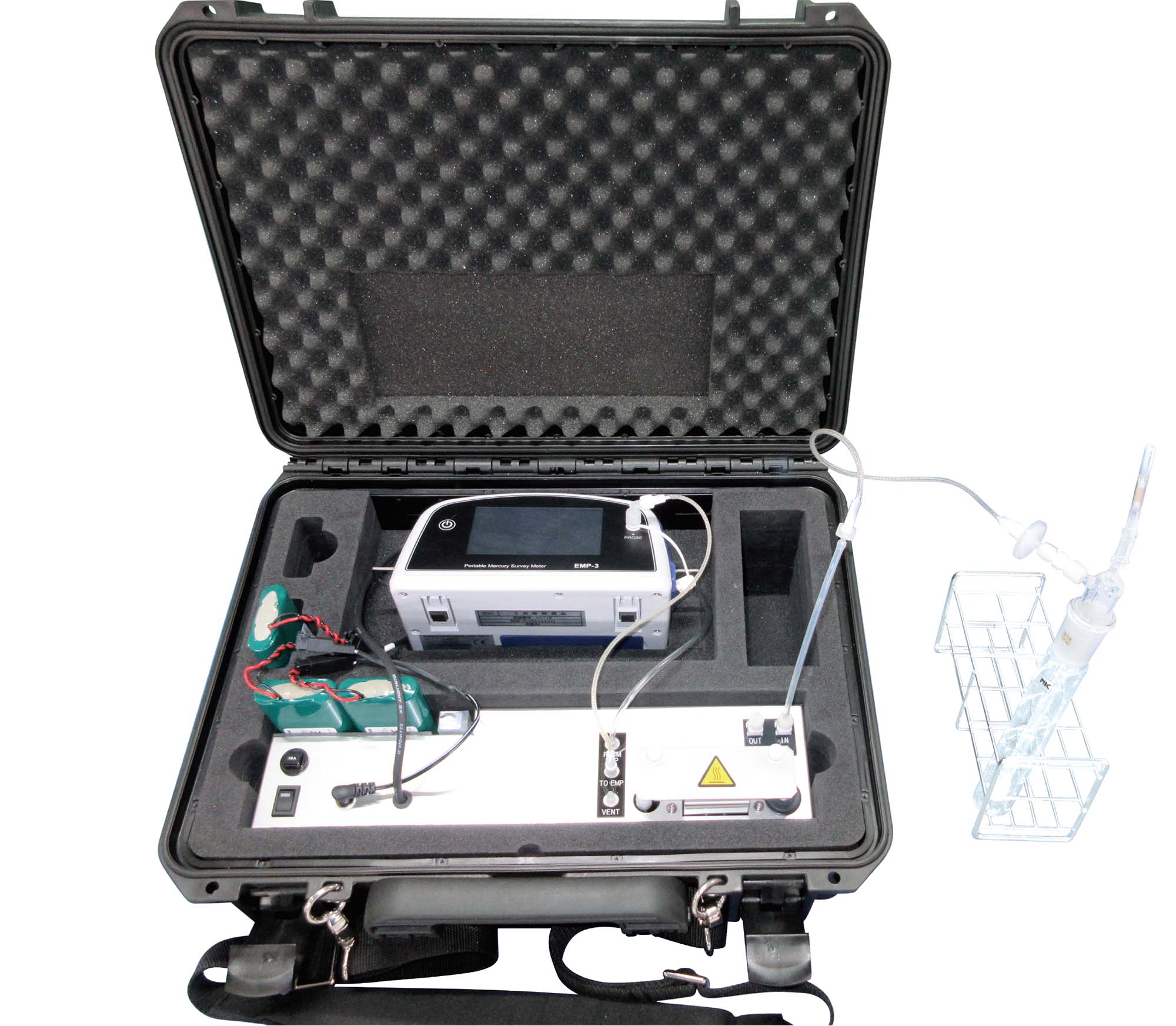 AQUA Kit is made available to enable EMP-Gold+ to perform sub-ppb detection levels aqueous matrices mercury measurement on-site.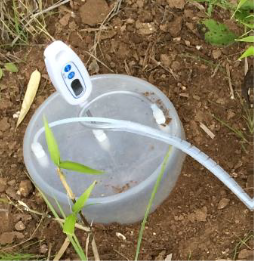 The N-Packer is a soil gas sampling kit for mercury flux measurement in EMP-Gold+ used for geo-thermal investigation and studies.
For On-site High Concentration Measurement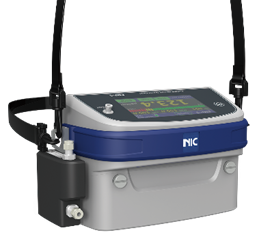 EMP-3 meter of EMP-Gold+ can be easily detached to use as a survey meter for regular workplace hygiene mercury measurements where sensitivity is no longer a priority and interference is insignificant. The Hi-Lutor option can be installed if higher levels of mercury measurement application are required.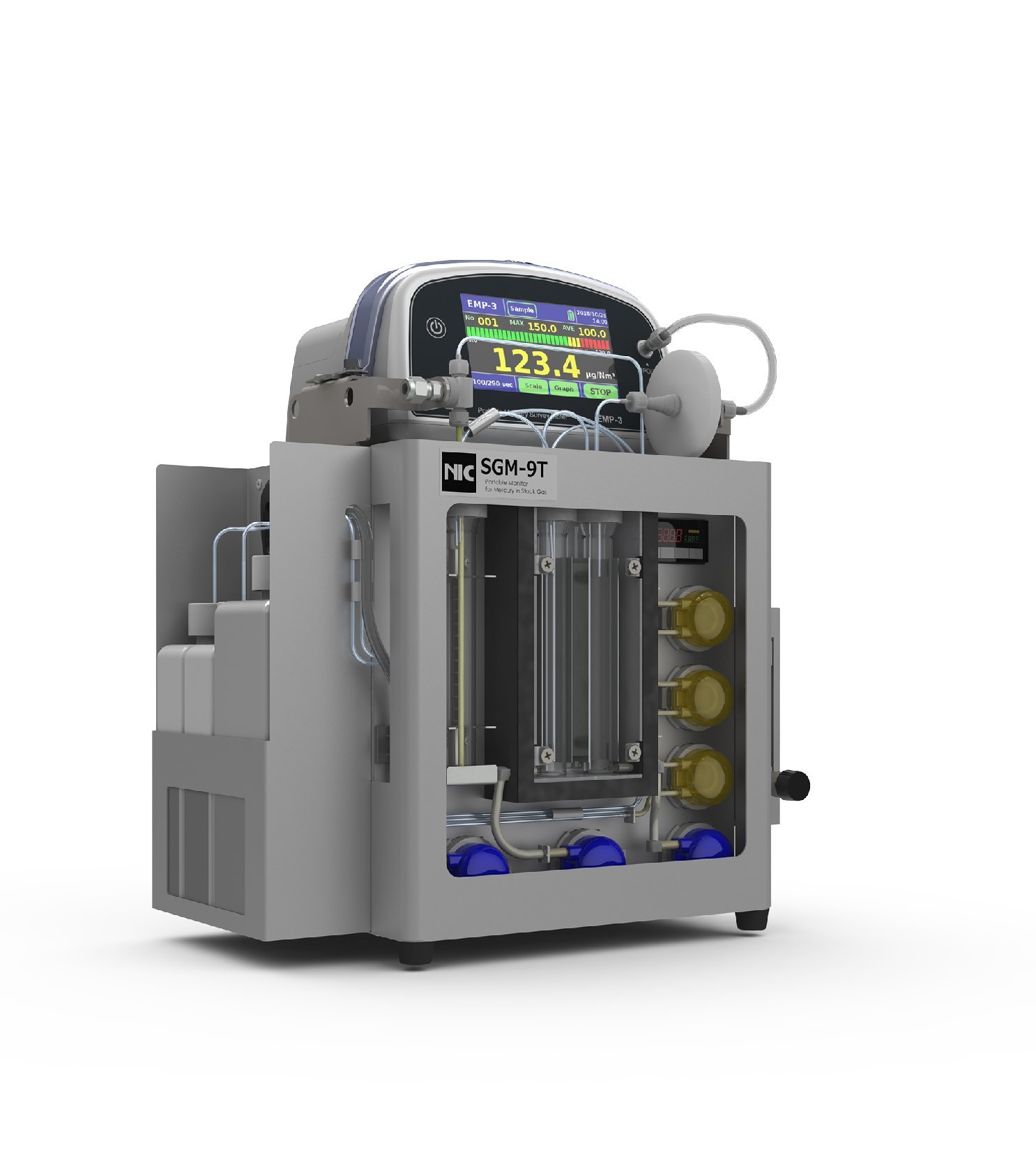 SGM series specializes on-site mercury measurement from stack gas, flue gas.
A state-of-the-art Direct Mercury Analyzer
No sample digestion needed
Fast analysis time
Highly accurate
Solid , liquid, gaseous matrices