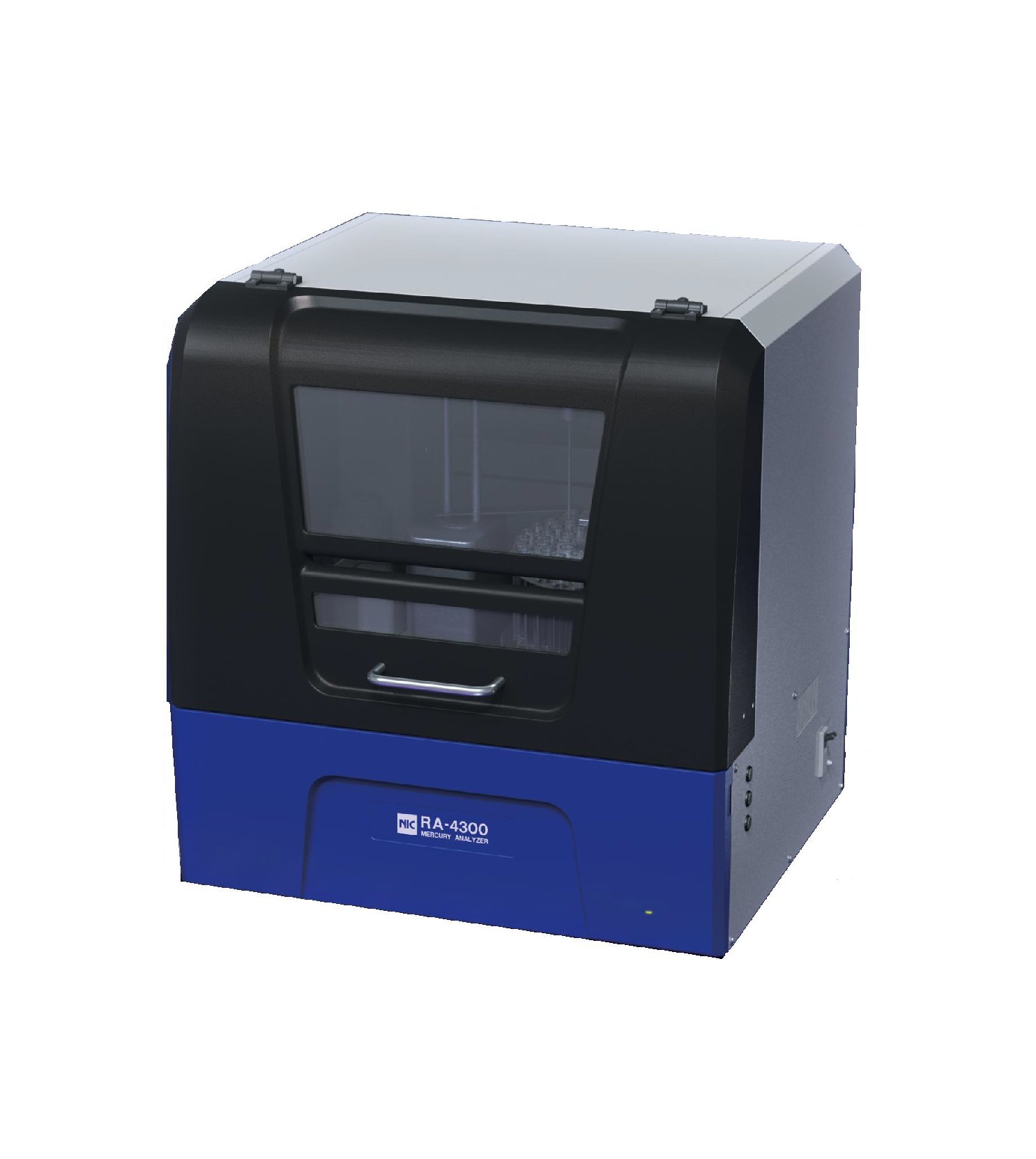 Reducing-Vaporization Mercury Analyzer
Sensitive, accurate and multifunctional
RA-4300A is a benchtop Reducing Vaporization-CVAAS mercury analyzer which is designed and engineered with the necessary functions to fulfill all the needs in mercury analysis. 
Suitable for a wide variety of post-digested sample solutions, aqueous samples, including drinking water, industrial wastewater, river water, lake water, seawater and rain-runoff
USEPA 245.1  |  USEPA 245.2  |  USEPA 245.5  |  USEPA 7470A  |  USEPA 7471B  |  ASTM D 3223-17  |  EN-1483  |  APHA 3112  |  JIS K0102  |  ISO 12846 and more
High Productivity
- Autosampler with 80 Positions
RA-4300A is equipped with an autosampler of 80 positions which maximizes the throughput of any fast-paced laboratory, providing results with the shortest turnaround time possible.
Superior Detection Limit and Sensitivity
– Detection Limit Down to 0.5 ppt
RA-4300A is equipped with a Non-Dispersive CVAAS which has a detection limit of down to 0.5 ppt (5 ppt including sample digestion process) with excellent accuracy and precision.
With this superior detection limit and excellent precision, it provides a wide range of applications to be analyzed in RA-4300A such as river water, lake water, etc.
Built-In Reagent Dispenser
RA-4300A has a built-in reagent dispersing system for
Hydroxylamine hydrochloride
Tin (II) chloride
Sulfuric acid
The entire excess-oxidant quenching and reducing vaporization process is automated.
Discrete-Direct-Purge Technique of Reducing Vaporization
There are two methods of Reducing Vaporization, i.e.,
Flow Injection Technique
Discrete-Direct-Purge Technique.
All mercury analyzers in NIC employ Discrete-Direct-Purge Technique to minimize memory effect from mercury which causes cross-contamination issue.
Lower Operation Cost – No Carrier Gas Required & Reduced Consumption of Chemicals and Consumables
Almost all CVAAS requires purified carrier gas such as nitrogen or argon. In RA-4300A, there is no carrier gas required which lowers down laboratory operation cost and facility preparation.
Reduced Consumption of High Purity Chemicals
When comes to trace mercury analysis, purity of the reagents plays a vital role in having minimum background that interferes with the target analyte measurement. Consumption of reagents directly relates to the daily operating cost.
RA-4300A built-in reagent pumps are incredibly long-lasting, durable, and consistent in the delivery of reagents such as hydroxylamine hydrochloride, tin (II) chloride, and sulfuric acid with excellent consistency. 
RA-4300A reagent pumps are operated as dosing mode, do not run continuously like those peristaltic pumps used in flow-technique, therefore extending its lifetime and maintenance frequency for both its tubing and motor.
CVAAS Mercury analyzer that automates from sample digestion to mercury measurement without operator intervention.
have any questions? let's connect